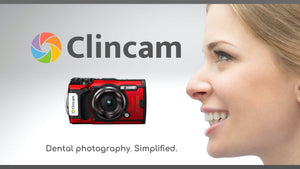 The small camera with a big punch.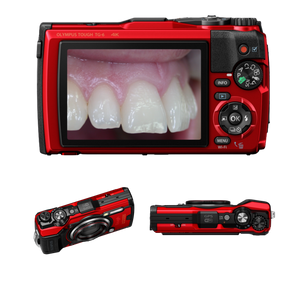 Photography Simplified
Clincam is one of the best small format point and shoot dental photography solutions on the market today capable of capturing high quality clinical photographs.
We have taken the stock Olympus TG-6 and applied our custom modifications so that it can capture intra and extra oral photography without the need for external ring or twin flashes, macro lenses or adpters.
It is extremely simple to use with no  prior knowledge of photography required.
Whilst only a dSLR will rival a dSLR, Clincam offers an alternative that is a balance between quality, simplicity and cost. All clinical images on the website were taken with Clincam. 
It is important to us that our clients are happy and get the best from Clincam. We are available for help and advice by phone, email or video chat depending on your location.
Prices listed on our website are in Australian dollars.
Click to view our Clincam user guide
Buy Now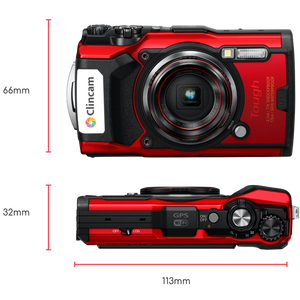 Clincam Features
Form factor: compact and lightweight at 256g for single handed use
Portable: Pocket sized for carrying between locations.
Durable: Waterproof to 15m, dust proof and drop resistant to 2.0m.
Easy to use: Customised for dentistry. Just point and shoot.
Imaging options: JPEG or RAW plus 4K video recording.
Sharp images:  f2.0 to f18.0 macro lens, fast shutter & reprogrammed onboard flash to control depth of field for focus and eliminate camera shake.
Connectivity: Transfer images to a tablet or mobile using Clincam's built-in WiFi or via USB cable to a Windows or Mac computer.
Buy Now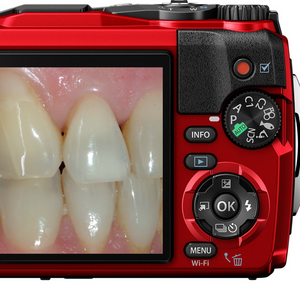 Clincam Benefits
Infection control & Covid-19 safe: . Use Clincam with or without gloves, even mid-treatment. Every millimetre of its surface can be sanitised with disinfectant wipes or washed with soap and water for complete peace of mind.
Time saving: Take a full set of intra and extra oral images in less than 5 minutes.
Convenient: No complex set-up. Just grab and shoot. 
Enhanced practice: Improve communication, record keeping, consent,  medico-legal protection & case acceptance.
Easy to use: Just 10 mins of practice required. Any team member can be trained to take high quality images.
Buy Now
Enhance your clinical practice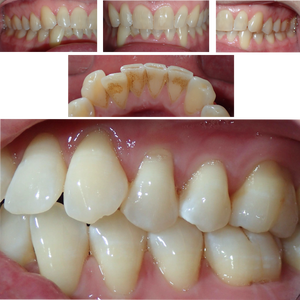 Making the ordinary, Extraordinary
Out of the box and off the shelf, point and shoot cameras are generally unsuitable for the demands of dental photography without some form of modification or add-on lenses and flashes.
This is where Dental Photography Solutions come in. 
With our bespoke in-house customisations and modifications, we have taken the excellent Olympus TG-6 and unlocked its true potential for dental photography - all without the need for any expensive or bulky add-ons.
Clincam isn't just capable of dental photography, it excels in it.
With just two settings to choose from, one for intra-oral and another for extra-oral, you can now take images with ease.
ADD TO CART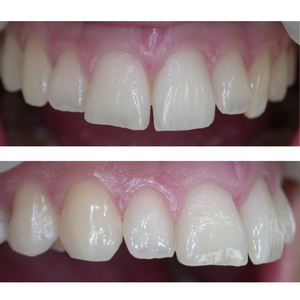 Return on Investment
Integrating photography into your daily workflow doesn't just improve your record keeping - it also elevates your communication, case presentation and case acceptance rates.
With Clincam, you can capture a full series of images in less time than it takes to process two bitewing films. 
With Clincam costing less than 1/2 the price of a dSLR, the  return on investment is much quicker.
Add to cart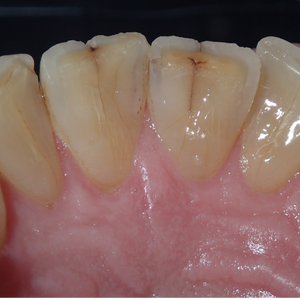 Capture Fine Detail
You no longer need a separate intra-oral camera. Clincam can zoom into a single tooth from an occlusal or quadrant image without loss of detail or clarity. One image. Multiple options. 
Soft-tissues: The super fast shutter and shake free imaging allows for accurate imaging of soft tissue, tongue and floor of mouth. Perfect for oral medicine.
add to cart
TRIED AND TESTED IN CLINCIAL PRACTICE
Clincam is a fantastic solution for everyday clinical photography. Fully tried and tested by dental practitioners of all experience levels in clinics across Australia, USA, UK, Ireland and Europe, the ease and simplicity of Clincam has helped to enhance communication, patient outcomes and efficiency. This product is a must have for anyone wanting to introduce photography into their clinical workflow. Clincam is now in use by dentists worldwide.

Dr. Rakesh Jivan BDS FPFA, Digital Photography Solutions
Dental Photography Solutions,
23-27 Macquarie Street, Parramatta, 2150
ABN 79 660 180 085